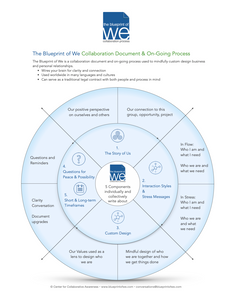 Beyond self awareness, our world now demands
Collaborative Awareness
™
The Blueprint of We is a collaboration document and on-going process used to mindfully custom design business and personal relationships. 
Wires your brain for clarity and connection 

Used worldwide in many languages and cultures 

Can serve as a traditional legal contract with both people and process in mind
What Is It?
The Blueprint of We, created by The Center for Collaborative Awareness, enables groups of any size custom design healthier, more resilient business and personal relationships.
In an increasingly complex world, where the old ground rules are no longer reliable, it gives you the power to mindfully create your life and work, rather than squeezing into pre-established relationship models. 
You personally write the document along with those involved, whether 2 people or 20,000+. It captures what draws each individual to the situation, your personal preferences and expectations; and it provides a path back to peace when the need arises. As an on-going collaborative process, it wires your brain for more connection and compassion and enables groups of all sizes to continually find clarity. It is often being used to replace or enhance traditional legal contracts.
5 Components of a Collaboration Document
The Story of Us 
Share what draws you to these people and this situation.
Interaction Styles & Stress Messages
How I/we work best, what I/we look like on a good day and a bad day, and what I might need that I couldn't ask for in the moment.
Custom Design  
Core values and non-negotiables, the structure you need to create and sustain this relationship.
Questions for Peace & Possibility 
A tool to build on what's working and to return to peace if the need arises, makes the difficult times shorter and easier.
Short & Long-Term Timeframes 
How long you're willing to go before you make peace. A willingness to keep an open window if the unimaginable happens.