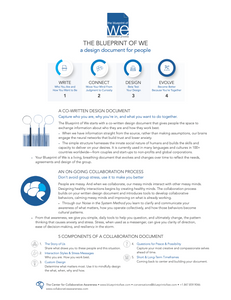 Beyond self awareness, our world now demands
Collaborative Awareness
™
A great piece of furniture, beautiful product packaging, the simple elegance of a smartphone app. They all benefit from great design. Our collaborative relationships are no different.
The Blueprint of We is a design document for people who want to get things done.
The simple structure harnesses the innate social nature of humans and builds the skills and capacity to deliver on your goals.
It is currently used in many languages and cultures in 100+ countries worldwide—from entrepreneurial start-ups to non-profit organizations to global corporations.
The Blueprint of We is a collaboration document and on-going process used to mindfully custom design business and personal relationships. 
Wires your brain for clarity and connection 

Used worldwide in many languages and cultures 

Can serve as a traditional legal contract with both people and process in mind
Created by The Center for Collaborative Awareness, the Blueprint of We, enables groups of any size custom design healthier, more resilient business and personal relationships.
In an increasingly complex world, where the old ground rules are no longer reliable, it gives you the power to mindfully create your life and work, rather than squeezing into pre-established relationship models. 
You personally write the document along with those involved, whether 2 people or 20,000+. It captures what draws each individual to the situation, your personal preferences and expectations; and it provides a path back to peace when the need arises. As an on-going collaborative process, it wires your brain for more connection and compassion and enables groups of all sizes to continually find clarity. It is often being used to replace or enhance traditional legal contracts.