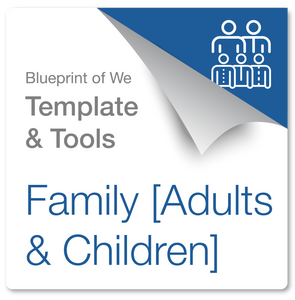 Time at home with our families can be the most rewarding, or frustrating experience. Learn from the frustrating times and more consistently live in the connected times.
Families have as many dynamics in relationship as there are people in the family—times 10!
Build and sustain relationship in a way that fits exactly who you are and what you want to experience together. The Blueprint of We template enables you to mindfully design the new way of relating to one another rather than falling into old patterns, or recreating the family dynamics you grew up with.
Build trust between one another with greater ease as you learn more about how each person operates and how to bring out the best aspects of one another.  
You Will Receive:
Certified Collaboration Coaching Session (phone, Skype or Zoom)

Preliminary meeting to assess needs (15 minutes free)
90, 120, or 180 minute session
Scheduling contact information included with purchase



Digital Materials:

Single Use License
Google Doc version: View Only Google Doc to duplicate and make your own; Microsoft Word downloadable
Introduction and Overview to propose the concept to others
Step-by-Step Instructions for Creating, Clarifying and Using Your Blueprint
eBook: The Collaborative Brain Toolkit
Each adult in the family came from a slightly, sometimes extremely, different way of growing up in their family. Find out and share the why's behind the behaviors and traditions you inherited from your birth family.
What do you like about the other members in your family?
What should I do when my brother/sister is upset or frustrated?
What values and actions are key to getting along?
Go beyond assumptions about how each person wants to be treated or what it means when someone goes away when they are upset, to build your family your way. Keep or reinterpret the things that you enjoyed or create entirely new ways of being in a family that suits who each of you are, hearing the voices of every member of the family. And have fun while you do it! 
•  •   •   •   •   •   •
Design and build a better relationship with a Collaboration Coach as your guide
Self aware individuals can greatly impact a relationship, but the ultimate health of a group depends on building the skills and capacities for Collaborative Awareness: who are we together.
Our Certified Collaboration Coaches help you custom design how you will be together, and teach you to use your relationship stress for greater clarity, trust and connection.
Your Certified Collaboration Coaching Session Includes:
Preliminary meeting (first 15 minutes free)
90, 120, or 180 minute session

Scheduling contact information is included with purchase
Purchase a 90, 120, or 180 minute Collaboration Coaching session that will take place by phone, Skype or Zoom. Prior to scheduling your session we'll talk on the phone (15 minutes free) to help you determine the best use of your Collaboration Coaching session. Next we'll schedule a time for your session where everyone involved can take part.
Experts in Collaboration help you to:
access where you are on your journey and determine which tools best suit you and which to apply first
learn great ways to get others on board
use the Noise in the System neuroscience tools for less stress and more trust 
gain insights into how to get the most from the Blueprint of We Collaboration Process
facilitate your Blueprint of We Clarifying Conversation, where collaboration get's real and fun!
know how to use the tools as a long-term practice after your Collaboration Coaching session
Create the 1.0 version of a Blueprint of We
In no time at all you can get started with the 1.0 version of your co-created Blueprint. Over time, each person adds to the document as you transition and evolve the relationship into something new that works for you. Build the foundation to continually have the conversations that matter and open the door to creating the relationship you desire.
The Blueprint of We Template is a fast way to get started using your Blueprint of We. Single Use License Digital Materials Include:
Digital version of the Blueprint of We Template. Microsoft downloadable.
Introduction and Overview to propose the concept to others
Step-by-Step Instructions for Creating, Clarifying and Using Your Blueprint 
eBook: The Collaborative Brain Toolkit

Single Use License Definition:
When you use the Blueprint of We Collaboration Document Template, you will be sharing these materials with others to create a single Blueprint of We. When you go on to create Blueprints in new situations or with new people, you will need to purchase additional Single Use Licenses for each Blueprint you create. To purchase additional licenses increase the quantity to the number of licenses you need.
•  •   •   •   •   •   •
The Blueprint of We Collaboration Document & Process
The Blueprint of We is a design document for people who want to get things done. The simple structure harnesses the innate social nature of humans and builds the skills and capacity to deliver on your goals.
It is currently used in many languages and cultures in 100+ countries worldwide—from entrepreneurial start-ups to non-profit organizations to global corporations, from couples to families, from individuals to communities to any relationship situation that exists. 
The Blueprint is at once intimate and scalable to thousands. 
It creates a space to be vulnerable and is being used to replace or enhance legal contracts.
Two Blueprint of We Elements
1. The co-written design document gives people the space to exchange information about who they are and how they work best. 
When we have information straight from the source, rather than making assumptions about what other people's behavior means, our brains engage the neural networks that build trust and lower anxiety. 
Your Blueprint is a living, breathing document that evolves and changes over time as your group evolves and changes.
Combine this with team and company strategy or personal and community desires, and you have both people and process in alignment. This is the written foundation for clarity and ideation.
2. The collaboration process builds on your written design document and introduces tools to develop collaborative leadership behaviors, calming messy minds and improving on what is already working.  
Through a method we refer to as Noise in the System, you learn to clarify and communicate your awareness of what matters, how you operate collectively, and how those behaviors become cultural patterns. 
From that awareness, we give you simple, daily tools to help you question, and ultimately change, the pattern thinking that causes anxiety and stress. Stress, when used as a messenger, can give you clarity of direction, ease of decision-making, and resiliency in the storm.
The iterative design process offers an on-going learning cycle about self and others in relation to how you get work done together. 
•  •   •   •   •   •   •
 Product Specifications & Process
Specifications
TEMPLATE
Blueprint of We Template includes a digital version and a printable PDF version. The template is comprised of questions within each of the 5 Components that make up the  structure of a Collaboration Document.
SUPPORTING DOCUMENTS
Use the supporting PDF documents to assist you in introducing and utilizing the Blueprint of We.
The 5 Components of a Collaboration Document
1. The Story of Us
What draws you to these people and this situation.
2. Interaction Styles & Stress Messages
Who you are. How you work best.
3. Custom Design
Determine what matters most. Mindfully design what, when, why and how.

4. Questions for Peace & Possibility
Capture creative and compassionate you ahead of time.
5. Short & Long-term Timeframes
Coming back to center and building your document.